THE DANGERS OF USING A DEBT SETTLEMENT COMPANY OR DEBT CONSOLIDATION LOANS
---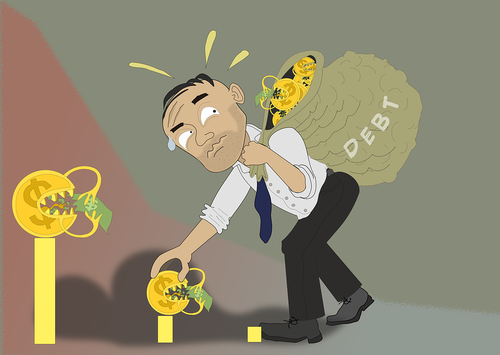 When you are facing a large amount of personal debt, it might seem sensible to start brainstorming the different ways to solve your problem. Two of the most common options people consider are using an attorney or a debt settlement company. While both of these options are logical choices, GA Debt Relief would like you to let you in on a few things about debt settlement companies that they won't tell you. After learning about them, you may agree with us that it's in your best interest to avoid going with a debt settlement company.
What Are Debt Settlement Companies?
A debt settlement company is a business that promises to eliminate or greatly reduce your debt by negotiating new terms with your creditors. These companies perform this service for you for a monthly fee, and in some cases, a percentage of the amount that they save you by reducing your total long-term debt. These companies may even provide you with bad advice on managing your finances and cause you to incur even more indebtedness during the negotiation process.
For example, it is not uncommon for a debt settlement company to recommend that you stop paying on your debts immediately because your creditors will not negotiate for a debt settlement if your debts are currently being paid down. They will recommend that you instead, send the money to them to place in your account to build up a lump sum to pay off the debt entirely once the price has been negotiated.
What these companies do not tell you, however, is that when you stop paying your debts in this manner, you will start incurring fees, start the collection process, and destroy your credit score from non-payment. This leads to higher debts and a lot more aggravation when trying to regain control of your debts.
How An Attorney Can Help
If you decide to work with an attorney instead to manage your debts, you will find that the approach to debt reduction may be considerably different. Once your attorney reviews the debts and accounts, they may recommend debt consolidation loans or, if the situation is very bad, they may possibly recommend bankruptcy as a last resort to handle the problem.
Debt consolidation loans will provide you with a sum of money you can use to pay off your high interest debts and reduce them to a single monthly payment. This is often a much better way to manage out-of-control debt. If there are issues with creditors your attorney can represent your case and provide negotiation services on your behalf. And, if the situation requires it your attorney can also represent you if one of your creditors files a lawsuit against you for your debts.
Using the services of an attorney will allow you to receive accurate legal advice on how to manage these debts without causing further problems.
Hiring The Right Attorney
When looking for an attorney to help you with your debt problems, it will be in your best interest to speak with a local attorney that handles these types of issues. There are many Internet based "attorneys" or "debt collection law firms" that advertise this type of service. Many of these service providers are attorneys in name only and are actually run by non-attorney employees. They are debt settlement companies using a different name for their services.
A local attorney who you can meet with face-to-face and discuss the issues you are facing with your debts is invariably better for your financial picture in the long run. Meeting personally will allow you to interact with the attorney to get the absolute best results for your debt problems.
John Pytte of Georgia Debt Relief Services is an attorney in the Savannah GA area who will listen to your unique issues and add his expertise to help you solve them quickly. Whether you need debt consolidation loans or another creative solution, Contact us today!