STUDENT DEBT FORGIVENESS
---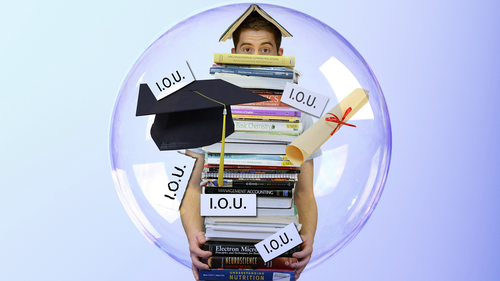 How to Forgive and Forget Your Student Loans Forever
Pervasive economic recession, rising tuition costs, and a tight job market have converged to prompt unprecedented student loan default rates. Many recent graduates are caught in a cruel financial Catch-22 of being unable to find suitable employment, which can make it difficult or even impossible to start paying back student loans on time. Meanwhile, these graduates' credit ratings rapidly go to ruin, thereby posing an even greater barrier to buying a home or achieving financial stability.
Given these difficult conditions, it is no wonder why a growing number of college grads want to learn more about student debt forgiveness. So we've created a basic guide for getting out from under crushing educational debt.
Can Student Debt Really Be Forgiven?
While the correct response is a resounding "Yes," it must be tempered by a great degree of cautious optimism. Although it is possible to forgive student debt, the feat is far easier said than done, as regulations have stiffened greatly in recent decades. You see, the most popular Graduation Day celebration for brand new doctors and lawyers used to be running off the stage and straight into the closest federal courthouse to get rid of six-figure student loan debt legally.
Eventually though, the government put a stop to that, reasoning that it posed a serious threat to higher education's future posterity. Consequently, federal legislative amendments were enacted to make it practically impossible to discharge student debt by filing for bankruptcy.
Fortunately, fresh blood stepped into high federal offices with bright ideas about better ways to help beleaguered student loan borrowers bow out of debt with dignity. Per recently published U.S. Department of Education reports, the following options are available to forgive, discharge, or cancel federal student debt.
1. College Closure
Borrowers who were negatively impacted by their school closing may discharge student debt.
2. Total and Permanent Disability
Debtors must submit proof of total and permanent disability to the Dept. of Education. To obtain full discharge of all student debt, the borrower must have been disabled at least 5 years or have a disability expected to last at least 5 years or cause death.
3. Teacher Loan Forgiveness
The borrower must have been a full-time teacher at a low-income elementary, secondary school or educational service agency for at least five consecutive years. Candidates must also be a new borrower, by virtue of owing no student debt on October 1, 1998 or their first loan origination date after October 1, 1998. Successful candidates may have up to $17,500 in student debt forgiven.
4. Public Service Loan Forgiveness
Each applicant must work in an eligible public service position, have previously made at least 120 payments towards their student loan debt, and not be in default to earn full forgiveness of all direct federal student debt.
5. Perkins Loan Cancellation and Discharge
Perkins loan borrowers employed in certain public service positions or related fields may qualify to have their student debt cancelled a few different ways:
A percentage may be cancelled for each complete year of qualifying public service. The maximum cancellable amount is based on the type of public services rendered. Depending on the loan type and origination date, part or all of the balance due may be cancelled for applicants who served in any job listed below:
Peace Corps, ACTION, or VISTA program volunteer

Teacher

Military service member stationed in a hostile area

Nurse

Medical technician

Law enforcement or correctional officer

Head Start worker

Children or family services worker

Early intervention service provider
6. Bankruptcy discharge
As previously discussed, it is very difficult to discharge student debt by declaring bankruptcy. A Bankruptcy Petitioner must persuade the court that forcible student loan repayment would pose "undue hardship" by meeting all three criteria below:
Inability to maintain a minimum standard of living if forced to repay the loan

Present evidence that extreme financial hardship will persist for a substantial part of the loan repayment period

Demonstrate a good-faith attempt to repay the debt before going bankrupt, usually by at least five prior years in repayment status.
This student debt forgiveness overview details some of the most successful strategies to obtain student debt forgiveness. If none of these conditions apply to you, there may be other ways to consolidate your debt and make your finances more manageable. For a custom solution for your student loan debt, contact the office of John E. Pytte today for a free consultation. As Savannah, GA's top bankruptcy attorney, he can help you on your path to financial freedom.