PAYDAY LOANS AND ALTERNATIVES
---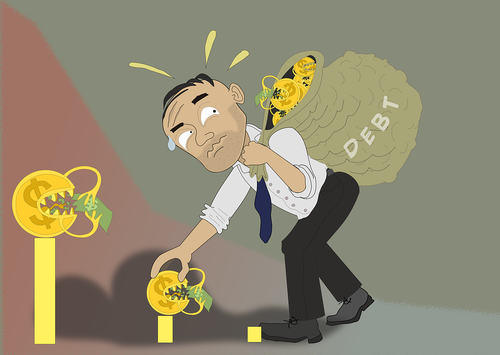 Not only are many people in America struggling to get out of debt, but they are also struggling to make ends meet. It is estimated that one out of four Americans are living paycheck to paycheck. This means that if they were suddenly faced with an emergency expense, they would struggle to pay for it.
Many people turn to payday loans when they have bills that they cannot pay. You can walk inside of a payday loan office and walk out with $500 in just one hour. This may sound convenient, but payday loans have a number of disadvantages.
If you have trouble coming up with the $500 that you need for an emergency expense, then you will likely struggle when you have to pay this $500 back. Borrowers also may have less than perfect credit and feel like they may not have any other recourse. That is why the average payday loan borrower takes out eight loans per year. Even though you may strapped for cash, there are always alternatives to taking out a payday loan.
How Payday Loans Work
Most lenders put a cap on the amount of money that you can borrow. In most cases, this ranges from $300 to $1,000. The average borrower takes out $375. You are then supposed to pay the loan back when you get your next paycheck. This is usually one or two weeks. However, in some cases, it is one month.
A payday loan is not an installment loan. This means that the lender wants to have the entire loan paid back at one time. That is why many people who are on a tight budget may struggle to pay the loan back. Furthermore, payday loans have high interest rates if the loan is not paid back on time.
Lenders often check credit to determine the best interest rate. Because payday lenders do not check credit, they will automatically give you a loan with a high interest rate.
Who Takes Out Payday Loans?
Most people who take out pay loans are young. In fact, most borrowers are between the ages of 25 and 44. They also come from low-income households. In fact, 70 percent of the payday loan borrowers have an annual income that is less than $40,000. Renters are more likely to take out a payday loan than those who own their home.
Uneducated people are more likely to try to get out of debt by taking out a payday loan. In fact, half of borrowers only have a high school diploma. Additionally, people who are divorced or separated are more likely to take out a payday loan.
In many cases, people are able to get their finances in order by budgeting better. Even if a paycheck is small, there are ways that you can stretch it to cover your everyday expenses. This may mean getting rid of some of the things that you do not need, such as an unused gym membership, cable TV and expensive cell phone service. Budgeting will also make it easier for you to get out of debt.
There is also a number of government programs that can help you if you are facing a crisis. You can get help with housing, food and utilities. You can also prepare for an unexpected crisis by building your emergency fund. Even if you only save $10 to $20 per paycheck, you will be able to quickly build up an emergency savings.
Furthermore, if you are struggling to pay your debts, then you may want to get credit counseling. They can help you come up with a debt management plan. You can turn to debt specialists like Georgia Debt Relief of Savannah GA if you need options and legal help.